PSY Indicator in MQ4
2013-02-13 191 words 1 min read
A few days ago, I just met Binary Option.
After studying this game, I think PSY indicator may be useful to perdict which bar will be up or down.
I noticed MetaTrader itself did not include this indicator.
It is easy to program. PSY is used to display how many bars are up in certain bars.
I think it perhaps is useful for Binary Option 60 Seconds Call or Put Trade.
So here it is.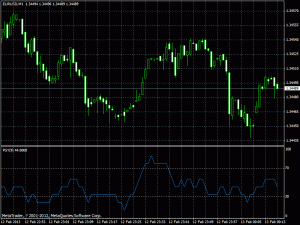 #property copyright "Jesse Lau"
#property link      "https://jesselau.com/"

#property indicator_separate_window
#property indicator_minimum 0
#property indicator_maximum 100
#property indicator_buffers 1
#property indicator_color1 DodgerBlue
//---- input parameters
extern int PSYPeriod=9;
//---- buffers
double PSYBuffer[];

//+------------------------------------------------------------------+
//| Custom indicator initialization function                         |
//+------------------------------------------------------------------+
int init()
{
string short_name;
//---- 2 additional buffers are used for counting.
IndicatorBuffers(3);

//---- indicator line
SetIndexStyle(0,DRAW_LINE);
SetIndexBuffer(0,PSYBuffer);
//---- name for DataWindow and indicator subwindow label
short_name="PSY("+PSYPeriod+")";
IndicatorShortName(short_name);
SetIndexLabel(0,short_name);
//----
SetIndexDrawBegin(0,PSYPeriod);
//----
return(0);
}
//+------------------------------------------------------------------+
//| Relative Strength Index                                          |
//+------------------------------------------------------------------+
int start()
{
int    i,counted_bars=IndicatorCounted();

//----
if(Bars<=PSYPeriod) return(0);
//---- initial zero
if(counted_bars<1)
for(i=1;i<=PSYPeriod;i++) PSYBuffer[Bars-i]=0.0;
//----
i=Bars-PSYPeriod-1;
if(counted_bars>=PSYPeriod) i=Bars-counted_bars-1;
while(i>=0)
{
int sump=0;
for(int j=0;j<PSYPeriod;j++)
{
if(Close[i+j]>Close[i+j+1]) sump++;
}
PSYBuffer[i]=100*sump/PSYPeriod;
i--;

}
//----
return(0);
}
//+------------------------------------------------------------------+